HOW DID I CREATE THIS LAYOUT - NO. 3
Thank you to Ona (wombat146) for this tutorial.
---
Hi everyone, it's a cold and blustery afternoon down here in Tassie so I am sitting here in a warm spot with a few moments to spare and thought I would share my process on how I created this layout, YOU BELONG TO THE CITY, nominated by Mary for me to de-construct.


While the layout may look involved and hard to do it really isn't. There are only two main components to it, 1) the photo and 2) the photo mask it is clipped to. The rest of the layout consists of a variety of brushes/stamps placed either under the photo to create the background and on top of the photo layer. I was really happy with how it turned out and when I look at it now I see that there is a central spot to the layout, the artist himself, and everything else is radiating out of the centre, which to me gives off a pulsating energy which is quite apt given the subject of the layout!

Once again I will break up this process with steps on creating the background first and then the rest of it.

If you have read Marianne's description of her main processes when creating her layouts, you will note that she places a lot of importance on her photo plus the photo treatments she applies to them. I totally agree with her idea of working on the photo first, separately, before using it in a layout and sometimes will while away an afternoon just playing with photo treatments, not scrapping them, just trying out different ideas and using the many photo effect programs that I own! Working on the photo itself in some cases will take longer than actually creating the layout! Whenever I do come across a photo treatment result that I like I immediately save it into a created folder on my EHD, in this way I have created a sort of 'library' of photos that have had various treatments and techniques applied. This makes it easier to just grab one when I have an idea for a layout, without having to spend too much time on it.

Of course, not every single photo I use in my scrapping has been treated in this way, only those ones that I want to create artsy type layouts with.

Concept behind the layout:
Before I even started this layout I had a concept of urban type imagery, something grungy and filled with texture. I had nothing concrete at this stage, just vague ideas of wanting to use a lot of brushes and/or stamps, but something that would 'stand out', especially as in this case it was for a scrapping challenge. So I went to my folder of photos that I had saved with various effects and started going through them. As soon as I saw the one below I knew that I wanted to use it, and to tie it into an urban/city life themed page.

This shows the original stock photo on the left and the photo on the right after I played around with it in the Smart Photo Editor Studio (love this program! ) You can see that it has given the photo a lovely grungy and texturised look to it.



So at this stage I had some sort of idea and I had found the photo I wanted to use, now I needed a mask of some sort. When I am thinking about Urban type effects I always think of Jen Maddocks first, she has some awesome kits and brushes based on this theme so that is where I went first to find a mask. Now let me mention first, that a lot of stuff I use for non CT work is Commercial Use and only available through the Photo Artistry course that I am a member of, and specifically in a sub-course called Kaizen where we receive a lot CU products from various designers, one of them being Jen Maddocks. So while I will mention the products I have used I can't provide any links etc. and in some cases I can't remember just where the product came from, for instance the background paper I used for this layout. I think it is from Vinnie Pearce but then again it could be one of Jen's, I am not sure, sorry

Starting the layout:
1. Opened a 12x12 page and moved the photo mask onto to it and then moved my photo onto the page above the photo mask and clipped it to the photo mask below it.

Note: On some types of photo masks you will notice that there are darker and lighter areas to it, the photo will show through better on the darker, or more solid areas of the mask. With the photo mask I chose to use, there were areas of it that were too transparent so I duplicated the mask and left it on the layer below the original photo mask layer. This helped to darken the more transparent areas and make them more solid so more of the photo could be seen in that area. (After clipping the photo to the mask I did create a layer mask on the photo mask layer to just hide some of the bottom area of the mask). Note: On the screen shot below, the text down the bottom should read Mark 2 not Mark 2! LOL! It was the Mask 2 in the Jen Maddock's Photomask No1 collection.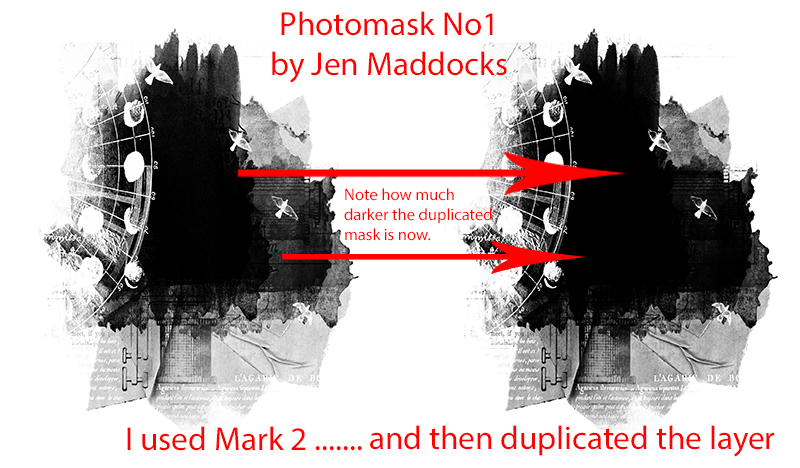 Creating the Background:

2. Next I selected a background paper to use, and as already mentioned, I can't tell you just where this paper came from, but it belongs to either Vinnie Pearce, Jen Maddocks or Anna Aspnes. I knew I wanted a dark background to fit in with the urban theme so went with a dark brown paper that had a bit of texture on it. My layout with just the photo clipped to the photo mask on the dark brown paper background appears below: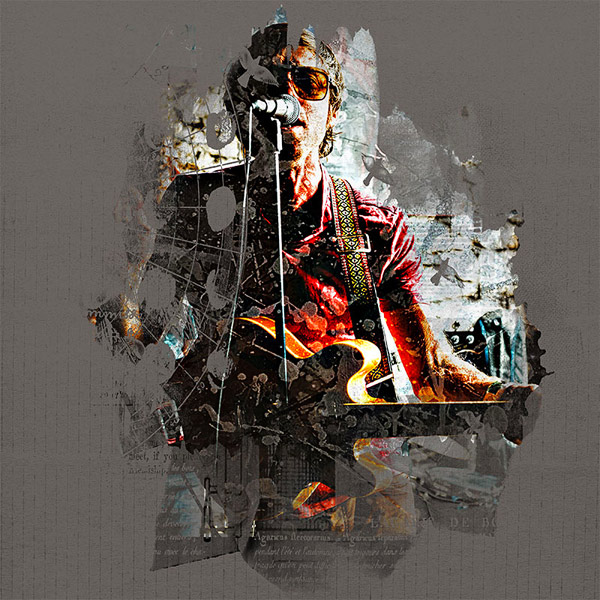 3. Now I was ready to create my background. As I was using a darker background paper and the photo itself was on the darker side, I went with some white brushes/stamps first. What you see here is what I ended up with, NOT all the ones I tried out and didn't use! LOL! First I wanted to fill in the background horizontally in some way, create some interest in the mid-way/bottom area of the page and after trying a few different ones I ended up with another urban themed brush from Jen Maddocks, which can be seen in the screen shot below. As always, mask out the bits and pieces that you don't need!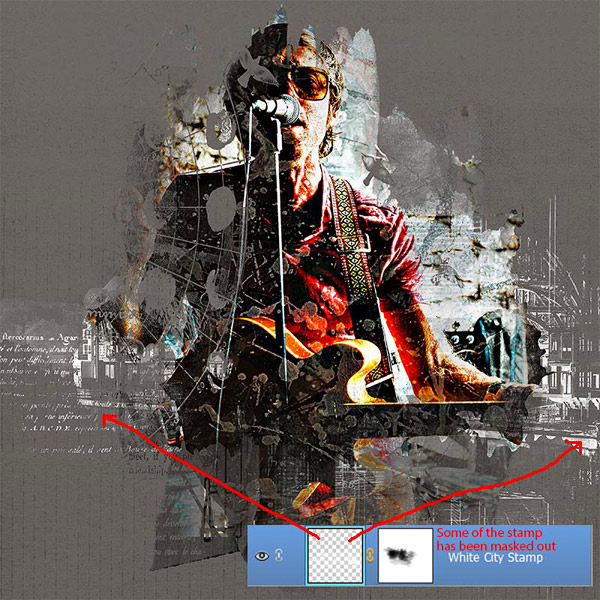 4. Next I played around with some more stamping and finally ended up with a large numbered stamp that placed diagonally on the page, don't know why exactly, only that I liked the look of it! and I also added a spotted grid like stamp on the left hand side of the page, again because I liked the look of it.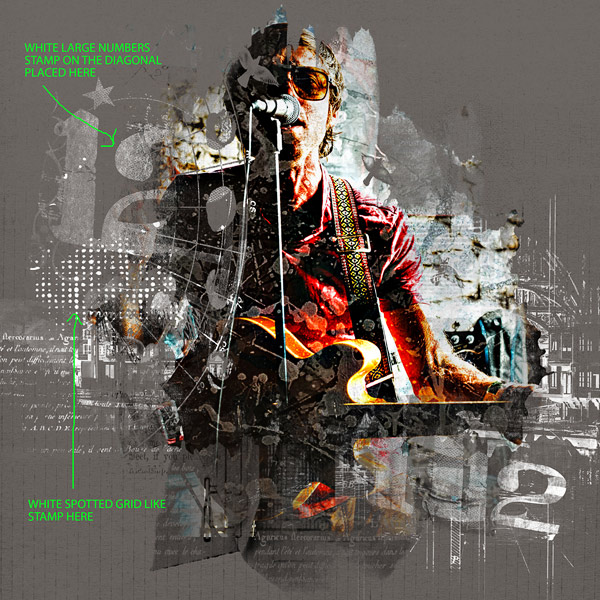 5. Okay, next I added some paint splats to the background. I picked the teal colour from the photo and recoloured two of the paint splats, and then the third one I left black as shown below. The teal splats are only just visible, just a hint of colour. I also added the red 'Open' sign. By this time my concept had resolved fully into an urban/city life theme so I imagined the artist here playing in a city pub, or nightclub, somewhere in a city, with neon lights everywhere.

REMEMBER, this is the easiest way for me to write down how I created this page BUT the actual steps were not so linear, I mean I may well have come back and put some of these background brushes in after I worked on the rest of the page........... I just can't remember, but you know yourself, when you are in 'the zone' and creating you are not taking too much notice of the actual steps you are doing to create the layout.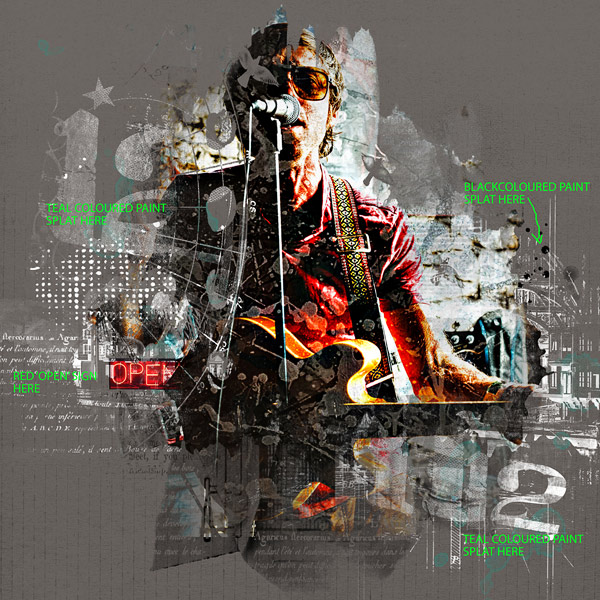 This finishes off the background! That didn't take that long did it??! This what my layers and layout were looking like at this point.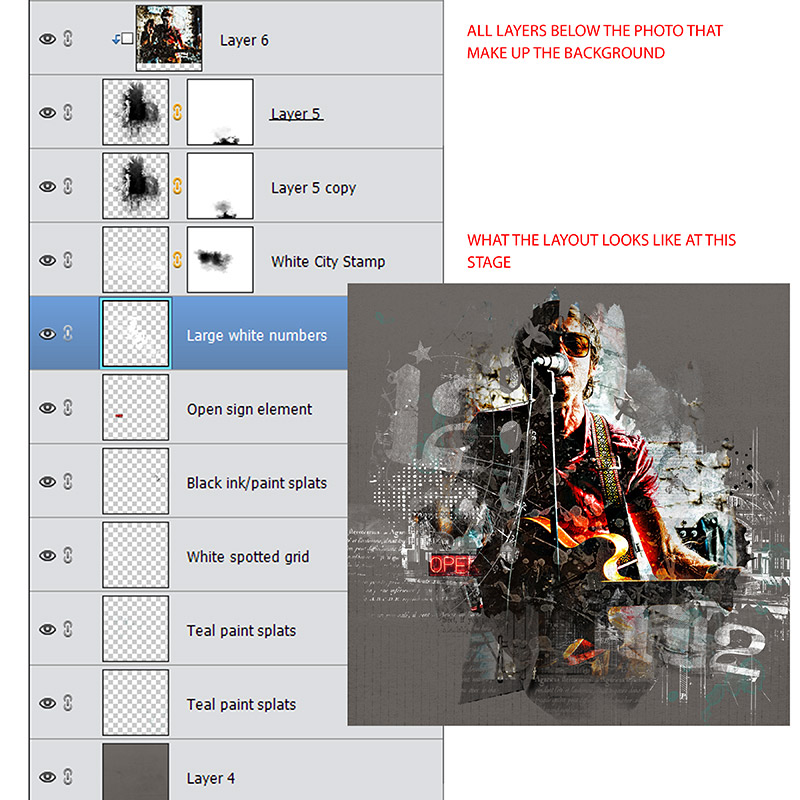 FINISHING OFF THE LAYOUT:
6. I added more brush work/stamping on the top layers of the photo, first off some birds flying in black, as this gave the page some movement, perhaps they are pigeons, scared off by the music??
and then I added a stamp on the left hand side of the page of a city skyline, just below the red OPEN sign.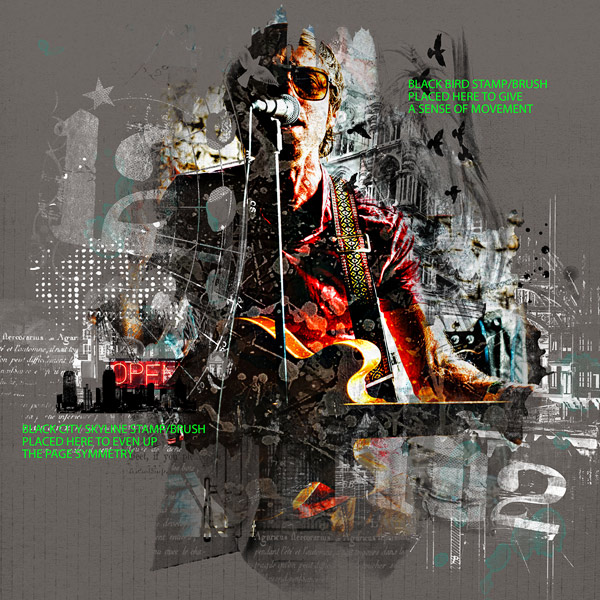 7. To finish off, yes, we are just about finished! I added some black paint/ink splats to balance out the highlights of black around my page. I then added some song lyrics from the song YOU BELONG TO THE CITY in small white script at the bottom of the photo and then I placed the large title above that layer. I duplicated the title layer and once again I didn't apply any blending modes or anything, I just wanted the more transparent parts of the font to stand out more, like I did for the photo mask earlier. (I used fonts Malina Regular for the script and Nowharehouse Regular for large title.)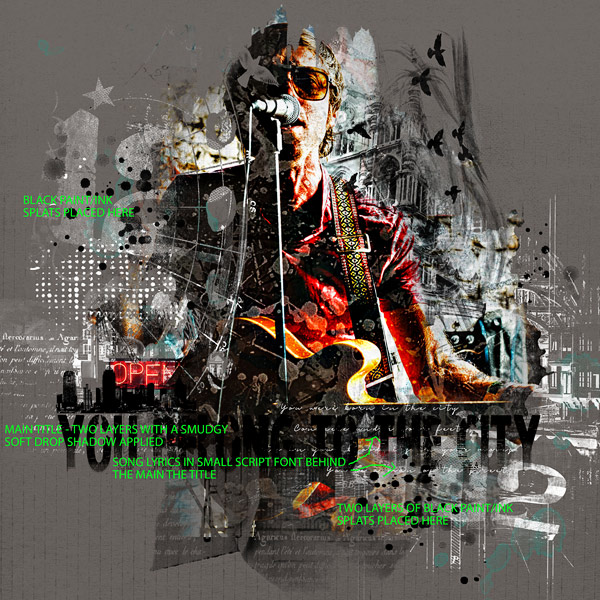 So the layout is now finished and this is what my layers looked like above the photo layer.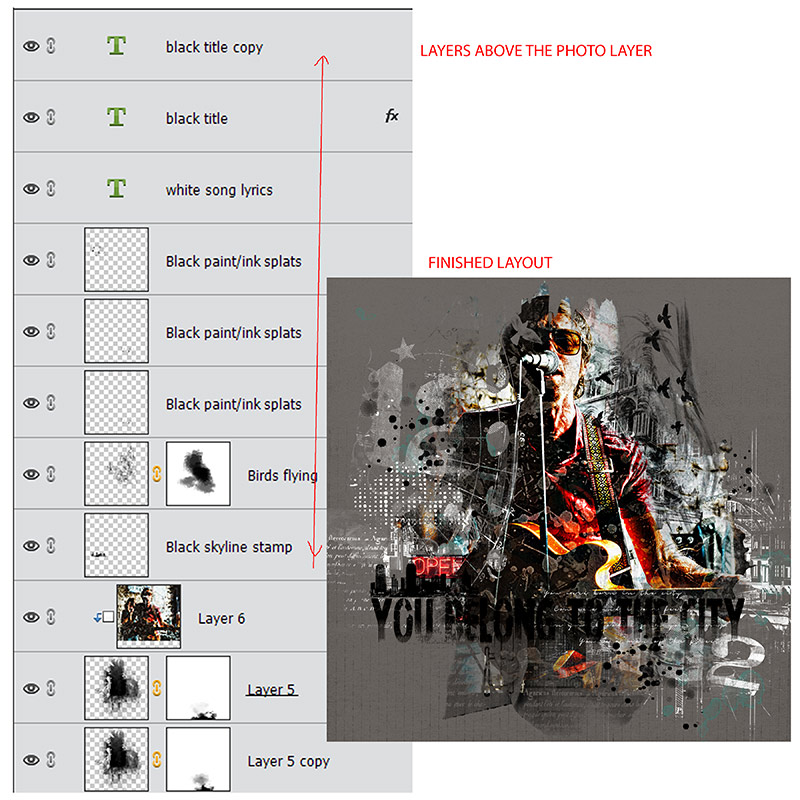 So there you have it, all finished!

I really hope you enjoy seeing how I created this page and I hope you will gain some different techniques or skills to use in your own artistry. I would really love to see your layouts if you use this page to scraplift!